Introduction to Theological Libraries
Keywords:
history of libraries, international librarianship, comparative librarianship
Synopsis
The Theological Librarian's Handbook is a multi-volume guide to the practice of theological librarianship intended for library staff who do not possess professional training in the field of library and information science. It offers perspectives and advice from leading experts in the field and best practices from theological libraries all over the world.
Volume one of the series, Introduction Theological Libraries, introduces the reader to the world of theological librarianship and answers the basic questions: What are theological libraries, their purpose, types, and the role in the community in which they operate? Who are theological librarians and what are their possible career paths? What are theological libraries like across the globe? How are they organized and how do they serve humanity? 
Chapters
What are Theological Libraries?

Theological Librarianship as a Career Path

Christian Theological Libraries in Africa

Theological Libraries in Australia and New Zealand

Theological Libraries in Central and Western Europe

Theological Libraries in Eastern Europe and Central Asia

Theological Libraries in Latin America

Theological Libraries in North America

Christian Theological Libraries in North Asia

Christian Theological Libraries in South Asia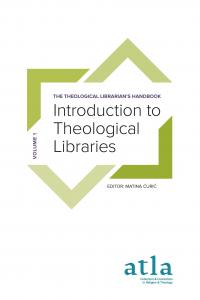 Copyright (c) 2020 American Theological Library Association
Details about the available publication format: PDF
ISBN-13 (15)
978-1-949800-04-3
Date of first publication (11)
2020
Details about the available publication format: EPUB
ISBN-13 (15)
978-1-949800-05-0
Date of first publication (11)
2020
Details about the available publication format: POD
ISBN-13 (15)
978-1-949800-06-7
Date of first publication (11)
2020