Preserving the Past & Engaging the Future: Theology & Religion in American Special Collections
Keywords:
comprehensive collecting, manuscripts, incunabula, theological libraries, acquisitions, fundraising, sustainability
Synopsis
Special collections of religious and theological materials have been part of the landscape of academic libraries in North America from their beginnings. This collection of ten articles treats several aspects of this rich history in three sections: the first deals with the history of specific collections at four libraries; the second treats current attempts to use special collections in teaching and the outreach mission of the library, including the development and use of digital technologies; and the third explores topics related to building library collections for the future, noting both pitfalls to be avoided and intriguing opportunities.
Chapters
Introduction

That the Good Books May Be Preserved

Reading the Materiality of a Collection

The German Reformation at the Folger Shakespeare Library

An Enlightened Ministry

Reconstructing and Exploring the Library of Convers Francis

Hogwarts in Minnesota

The History, Description, and Impact of Special Collections at Luther Seminary

Gifts of Great Libraries

Teaching with Special Collections at the Burke Library at Union Theological Seminary

Teaching and Learning with Special Collections and Archives

Introducing Religious and Theological Primary Sources into the Classroom

"Let Your Eyes Look Forward"

Developing a Digital Repository from the Ground Up

Shipping Container Librarianship

Creating Comprehensive Research Collections in Theological Libraries

Engaging the Alumnus/a Donor

A Case Study Based on Drew University's R. S. Thomas Collection

The Millennium Project

Nature, Environment, and Time in the Future of Special Collections: Considering the Case of Bridwell Library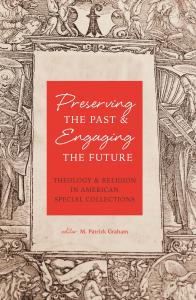 Copyright (c) 2021 Books@Atla Open Press
License
This work is licensed under a Creative Commons Attribution-NonCommercial 4.0 International License.
Details about the available publication format: PDF
ISBN-13 (15)
978-1-949800-17-3
Details about the available publication format: EPUB
ISBN-13 (15)
978-1-949800-18-0
Details about the available publication format: POD