Administration in Theological Libraries
Synopsis
Models for the administration of theological libraries vary significantly based on size, location, culture, and context. Commonly, theological libraries must develop an internal administration of policies, procedures, and goals in relation to collection management, staffing/volunteers, planning, reporting, and budget, as well as administer external relationships to a broader institution, library consortia, and other stakeholders. The targeted audience for this volume includes those starting a new theology library or beginning a new position in administration with principles relevant to established libraries and library directors.
Chapters
Library Mission Statements

National and International Library Regulations and Standards

Library Policies and Procedures

Mentoring and Supervising Library Staff in a Theological Library

Volunteers in Libraries

Friends or Foes?

Theological Library in the New Normal Environment​

New Dynamics of Institutional Relationship

Planning and Reporting

Forecasting Your Budget

Financial Accounting and Record-keeping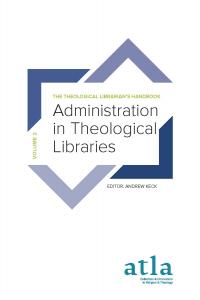 Copyright (c) 2021 Books@Atla Open Press
License
This work is licensed under a Creative Commons Attribution-NonCommercial 4.0 International License.
Details about the available publication format: POD