Campbell and the Colleges
Synopsis
Based on the Reed Lectures from 1971, Gresham, the twelfth president of Bethany College, explores how the school's founder Alexander Campbell articulated his philosophy of education. He then, demonstrates how leaders affiliated with Disciples of Christ went on to found other institutions of higher education.
This study shows the variety of entrepreneurial institutions begun within the Stone-Campbell tradition and the challenges of survival that schools faced even in the early 1970s.
Chapters include:
▪ Campbell on Education
▪ Campbell's Bethany
▪ Subsequent Colleges and the Campbell Heritage
▪ The Present Predicament of the Colleges
With generous support from the Andrew W. Mellon Foundation, and as part of the National Endowment of the Humanities Open Book program, the Abilene Christian University's ACU Press and Brown Library partnered with the Disciples of Christ Historical Society (DCHS) to digitize 25 important backlist titles relevant to Stone-Campbell tradition, theology, and church history. This open access version is hosted by Atla Open Press in furtherance of the purposes of the grant.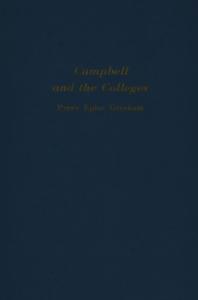 Categories
Copyright (c) 1974 Abilene Christian University Press
License
This work is licensed under a Creative Commons Attribution-NonCommercial-NoDerivatives 4.0 International License.