Debating for God: Alexander Campbell's Challenge to Skepticism in Antebellum America
Synopsis
Historians have recognized Alexander Campbell as the leading figure in an important American Christian reform movement, an advocate of Christian unity, and an educator, but his role as an apologist has been forgotten. This book focuses on Campbell's career as a defender of the faith, arguing that he was "the most significant Christian apologist of America's antebellum period."
He contended with some of the most notable skeptics of his era, most famous among them Robert Owen, founder of New Harmony. Martin E. Marty says regarding Campbell, "No clergyman of his time exerted himself more vigorously in combat of the infidels of the period." This groundbreaking book supports this claim with in-depth treatment of these debates.
With generous support from the Andrew W. Mellon Foundation, and as part of the National Endowment of the Humanities Open Book program, the Abilene Christian University's ACU Press and Brown Library partnered with the Disciples of Christ Historical Society (DCHS) to digitize 25 important backlist titles relevant to Stone-Campbell tradition, theology, and church history. This open access version is hosted by Atla Open Press in furtherance of the purposes of the grant.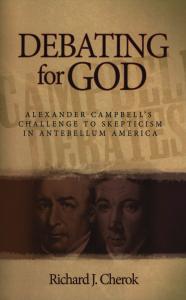 Categories
Copyright (c) 2008 Abilene Christian University Press
License
This work is licensed under a Creative Commons Attribution-NonCommercial-NoDerivatives 4.0 International License.