The First Letter of Paul to the Corinthians
Synopsis
This commentary was part of a series called the Living Word Commentary. These volumes are designed for lay readers to give them an overview of the critical issues in various books of the Bible. In addition to commentary, this volume offers an overview of the church in Corinth, the setting, and occasion of Paul's letter to the congregation.
With generous support from the Andrew W. Mellon Foundation, and as part of the National Endowment of the Humanities Open Book program, the Abilene Christian University's ACU Press and Brown Library partnered with the Disciples of Christ Historical Society (DCHS) to digitize 25 important backlist titles relevant to Stone-Campbell tradition, theology, and church history. This open access version is hosted by Atla Open Press in furtherance of the purposes of the grant.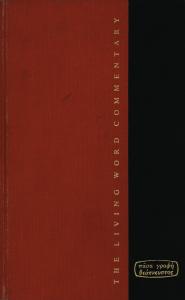 Categories
Copyright (c) 1979 Abilene Christian University Press
License
This work is licensed under a Creative Commons Attribution-NonCommercial-NoDerivatives 4.0 International License.