Hearing God's Voice: My Life with Scripture in the Churches of Christ
Synopsis
In times of change, Christians have always sought enduring answers from the pages of Scripture. Our hermeneutic—our method of organizing and understanding the message of the Bible—predetermines what answers we will glean. But is our process of understanding based on the Bible, or on our cultural and historical assumptions?
In this autobiography, Thomas H. Olbricht (1929–2020) looks back on the last sixty years in Churches of Christ and offers his observations of how our perceptions of Scripture have changed and evolved. He clears a path through the shifting thickets of an unsteady world; a path that leads toward the Everlasting—a way to hear God's voice.
With generous support from the Andrew W. Mellon Foundation, and as part of the National Endowment of the Humanities Open Book program, the Abilene Christian University's ACU Press and Brown Library partnered with the Disciples of Christ Historical Society (DCHS) to digitize 25 important backlist titles relevant to Stone-Campbell tradition, theology, and church history. This open access version is hosted by Atla Open Press in furtherance of the purposes of the grant.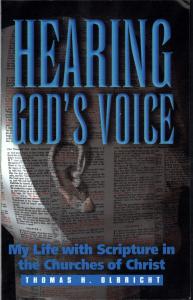 Categories
Copyright (c) 1996 Abilene Christian University Press
License
This work is licensed under a Creative Commons Attribution-NonCommercial-NoDerivatives 4.0 International License.