Featured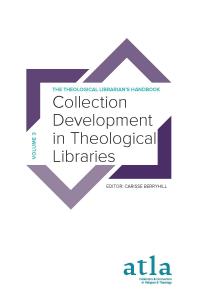 Volume 3 of The Theological Librarian's Handbook
July 28, 2022
Books@Atla Open Press publishes open access academic and professional works on subjects at the intersection of librarianship and religious and theological studies that potentially impact libraries. We seek to provide resources that guide and support innovative library services and enhance professional development. 
The editorial board welcomes proposals for volumes that represent new and creative research on topics that impact what theological and religious studies librarians do and how they do it. Additionally, we seek volumes that assist theological and religious studies librarians in their day-to-day work and professional development, including handbooks, textbooks or other open educational resources, and other reference-type materials. 
Books@Atla Open Press also hosts reprints of previously published print books that have value to the profession and are therefore deemed important to re-release as open access online editions. Reprints are selected at the discretion of Atla and are digitized and published in their original form with permission of the copyright holder where necessary.
Questions about submitting proposals or other inquiries may be directed to the Editorial Board at openbooks@myatla.org.